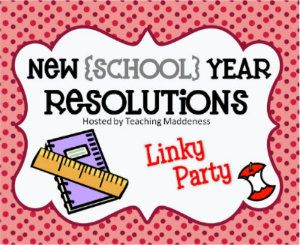 Amanda over at
Teaching Maddeness
is hosting a new school year resolution party! And I'm out of champagne, oh well, Diet Coke will have to do- it is bubbly! I'm hearing fireworks from someone in the nieghborhood, so maybe they are also celebrating the new school year! My resolutions usually last about 2 weeks, if I make them! So can I make a resolution to keep my resolutions? Hmmm...okay, here are my resolutions, I'm keeping a short list so I don't get overwhelmed by them!
1. Stay organized! I've made a binder system, photo frame teacher to do list, and have my teacher toolbox ready to go so I should be able to stay organized, right?
2. Delegate tasks to my paras. This year I will have a classroom para and 2 one on one aides in my room full time. I need to make sure that I'm keeping them busy and focused on the students. I tend to let things go or do tasks like making copies, bulletin boards myself, rather than having the para's do it. Maybe this comes from other years where the para would copy the wrong page in the wrong book (even with a book and page marker) and another para hung up the bulletin board, but cut a large square out of the middle of the background paper (I still don't know why). She also hung a border around the empty square! At least it wasn't my board that I cover with a sheet or fabric!
3. Hang out with other school staff more. I tend to eat in my room at lunch and pass on the after school "book clubs". This year I want to get away from my room and have some fun, especially since I don't have kids at home!
4. I'm stealing this resolution from other bloggers, I want to finish as much work as I can at school with still leaving by 4:00 and stop working at home by 8:00. With my job as stressful as it is I have a tendency to research and rework things for the next day, without allowing myself "me" time or spending quality time with the Mr. and the kitties. Actually, the kitties don't mind, Pepper will just come up and sit on my shoulders and purr loudly in my ear if she feels neglected!
So there you have it, my 4 resolutions for the new school year, guess I should also find out when the students come back! I know when I start (Aug. 14) but not sure how many days of meetings and whatnot there are before the actual first day!