I'm linking up with Megan at I Teach, What's your Super Power? for her What I'm Loving linky party!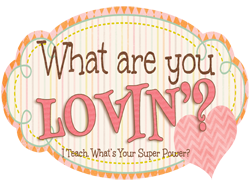 These are some of the wonderful things I made over the summer that I found through Pinterest and other blogs.
First, I love my organizational drawers! I keep all of my copies of work, homework, any flat materials that are needed each day. These keep me so organized! I fill them up for the next week on Friday before I leave, so I'm ready to go on Monday morning!
I also love, love, love my pencil sharpener! I kept trying to win one over the summer, but finally broke down and bought one! Everyone in my building is so jealous!! My paras even fight over sharpening pencils!
I also love my homemade dry erase sheets. They are lightweight, colorful, and easy to store!
I also am loving my water bottles. They keep me hydrated and stay cold (my room has a/c and is on the cold side!
Which brings me to sweaters. Seriously, even though it's 80 degrees outside, my room is a chilly 68 - 70! I wear cardigan sweaters everyday!! It can take me 20 minutes in my sun-warmed car to thaw out!! I have solids and prints in various colors that I wear over my tees! *I don't wear low cut shirts like this model, though- my shirts are plain crew neck!!
Finally, Cooking Light magazine subscription has been a life saver! I've found so many easy and quick recipes that taste delicious! Most of the recipes can be made under 40 minutes!
Now, it's your turn to link up with Megan! Let everyone know what you are loving right now! I'm hoping to gain more ideas!!